The Build Events in Visual Studio
Build events in Visual Studio are ones that get triggered before a build starts or after a build finishes.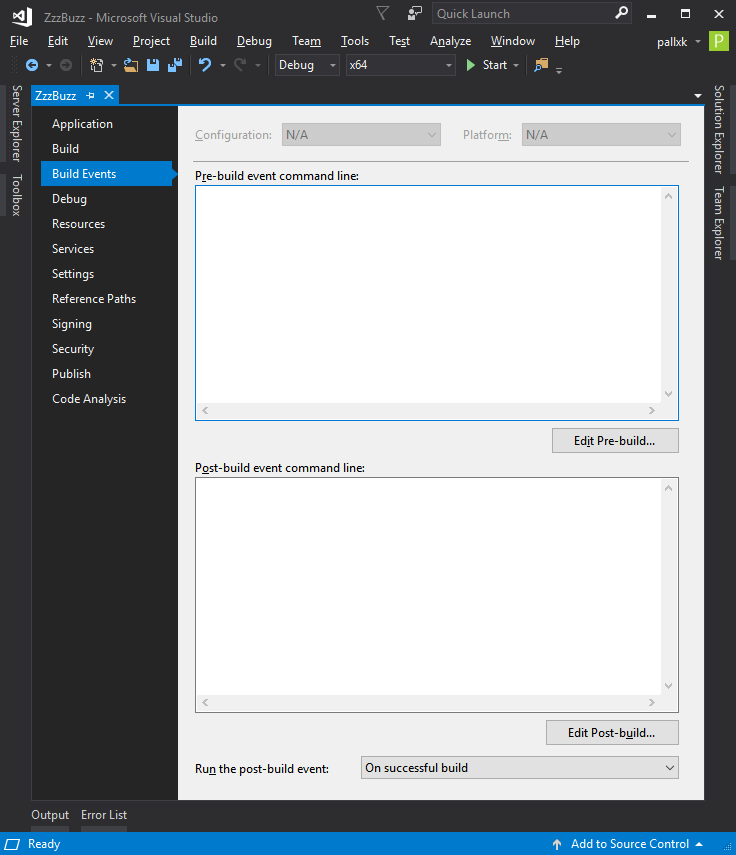 Specifying Custom Build Events in Visual Studio | Microsoft Docs:
By specifying a custom build event, you can automatically run commands before a build starts or after it finishes. For example, you can run a .bat file before a build starts or copy new files to a folder after the build is complete. Build events run only if the build successfully reaches those points in the build process.
Which basically means, if pre-build event commands fail, the code won't get compiled any more, and the build fails; if post-build event commands fail, the build is considered to be failed as well.
Tips for Authoring Build Event Commands
Commands in pre/post build events are running in the directory specified by the macro $(OutDir). For example, in bin\x64\Debug\, bin\Release or any other value set under Output path. To change the working directory in build event commands, use cd or pushd.

Prefix batch file commands with call or cmd /c to ensure commands after it will get executed, e.g. call C:\MyFile.bat.

Enclose file paths with quotes to avoid syntax error, e.g. echo "$(ProjectDir)".

Click Edit Pre/Post-build… -> Macros>> for a list of available macros and their value, or check the VS Doc.
Ignore errors in build event commands
If pre/post build events exit with code other than 0, the build fails.
To suppress errors in build events, add exit 0 or set ERRORLEVEL=0 to the end of the commands.
However, this is not enough in some cases as Visual Studio or more exactly MSBuild.exe recognizes error and warning messages output by pre/post build events. If an error message is recognized, the exit code of build event commands will be set to -1 if it would be 0 otherwise, and the build will be considered a failure.
Thus, in order to avoid build failure caused by error messages output by build event commands, we need to redirect their output to another file or discard it totally. For example,
SomeCommand >nul 2>nul
SomeOtherCommand >out.txt 2>err.txt

Messages that will be matched as error/warning will pass the following regex (case insensitive):
For details on this part, please check the references.
References